The opportunities in the co-living segment are endless and the segment is now being deemed as "real estate goldmine." As per a recent report, the co-living segment is untapped and has the potential to scale to a $93 billion market.
The co-living segment is in its infant stage in India. Owing to the demographics of the Indian population which is now skewed towards Millenials and youngsters, the demand for such a living arrangement is huge.
The demand for beds stands at around 46.3 million beds, out of which the demand for 8.9 million beds comes from student housing, said a report by PropTiger. On the other side, the number of beds available with the organized players is just over one lakh beds.
Clearly, there is a huge mismatch between existing demand and supply scenario which presents the potential of the tremendous growth in this segment making it a $93-billion market.
Since the college hostels across the country are falling short to provide accommodation to the outstation students, the student housing segment has similar opportunities. In fact, the occupancy in hostels based in college campuses is only 3.4 million students. Currently, the gap in demand and supply here is catered by unorganized PGs and rental houses.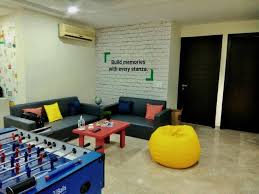 The report also mentions that rent generated through co-living is higher than existing routes of earning rents on properties such as commercial offices. Like, a property for students in Sector 125, Noida, is said to give around 8-9 percent rent whereas housing for professionals is expected to provide 5–7 percent rental yield
Apart from students, young working professionals, professionals placed in outstation projects, single working women are warming up to the idea of co-living than scouting for a place to rent.  As per another report, more than 70% millennials in India prefers co-living as an option while moving to new cities searching for reasonably priced accommodation.
As of now, there are very few players in the co-living segment. Apart from providing basic living requirements, these professional players manage properties by themselves and standardize them with basic amenities such as housekeeping, laundry, security, meals, etc. Here are some of the top co-living players:
RentMyStay
NestAway
Stanza Living
Zolo
OYO Living
CoHo
Ziffy Homes
Stay Abode
Placio