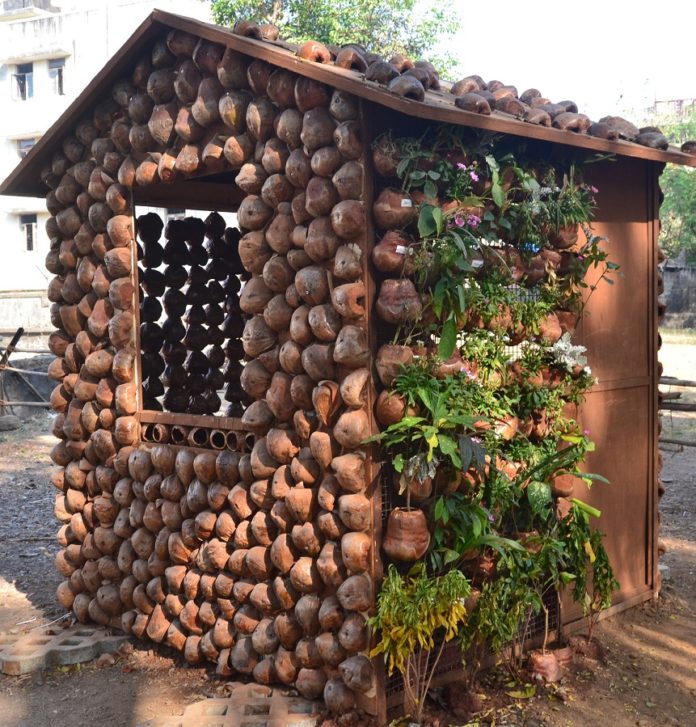 We all know that coconut shell is hard to decompose and may lie around for years, clogging the drainage system. What if these shells are put to a better use?  And what if the other alternative has a dual purpose as well?
All these questions might have bothered marketing professional Manish Advani and architect Jayneel Trivedi endlessly. To address the issue of providing better housing for slum dwellers and managing waste, the duo came up with the idea of coconut house- small homes using coconut shells.
It might sound unbelievable, but the duo has come up with a sustainable housing model the slum pockets in cities using tender coconut shells and scrap materials. Not only the materials used in this way of construction are environment-friendly, but these houses are also cheap and easy to make.
To come up with prototype coconut houses, the duo sought the help of 20 students from Somaiya College in Mumbai. The shells were halved to be stacked as walls and reinforced with mud, coconut and bamboo mesh.
The exterior walls of the house could double up as vertical gardens where a family can grow herbs and medicinal plants. It is being claimed that anyone with basic knowledge of construction, can assemble and construct the coconut house. The cost of a typical house of 64 sq ft is Rs 15,000.
"It is a known fact that deforestation has been impacting climate change in a big way, across the world," Trivedi told Housing.com. "If tender coconut shells are dried and used for making furniture, toys and building homes, etc., then, we can reduce the number of trees being cut around the world."
Well, these eco-friendly coconut houses have many other advantages. Since the material used is all natural, these houses usually tend to remain cooler than brick-and-cement houses, thereby reducing the need of air-coolers and ACs.