Gurgaon, now better known as Gurugram, has always been a dream destination for home buyers in NCR. Be it the variety of elite projects at hand or its close proximity to airports or the world-class infrastructure and skyline, owning a house in Gurugram comes way up on NCR's millennial's bucket list.
However, owning a house in the established locations in Gurgaon is now not a cake walk. Established locations like Golf Course Road, MG Road, NH-48 (areas near Rajiv Chowk and IFFCO) and even Old Gurgaon has home prices touching the sky. Plus the availability of the desired property is also not easy.
But there are some locations in Gurugram which still has a huge variety of options in a wide price range. Here is the snapshot of emerging locations in Gurgaon along with its main projects and advantages:
Golf Course Extension Road:
This area comprises Sectors 58-67A. The strategic location, as well as good connectivity of this area with NH48 via Sohna Road and Golf Course Road, makes this area a wise choice for any potential buyer.
The major activity happened in this Sector only after 2007. At present, the sector boasts of a slew of established high-end developers. The average price in the area is Rs. 8394 per sqft and the area has the availability of residential options in both primary and secondary markets.
Major housing projects in Golf Course Extension Road:
M3M Golf Estate
Paras Square
IREO Skyon
Adani Samsara Vilasa
Mahindra Luminare
M3M Heights
Emaar MGF Emerald Estate
Trump Tower
Bestech Park View
Northern Peripheral Road (NPR) or Dwarka Expressway (DE) :
Coming up of northern peripheral road along with limited availability of land in other micro-markets of Gurgaon is the prime reason behind the rapid rise of this region in Gurgaon real estate market.
Sectors such as 36A, 37C, 37D, 84, 88, 88A, 88B, 89A, 99-115, fall under this region which is well sprinkled with high-end luxury projects by well-known names.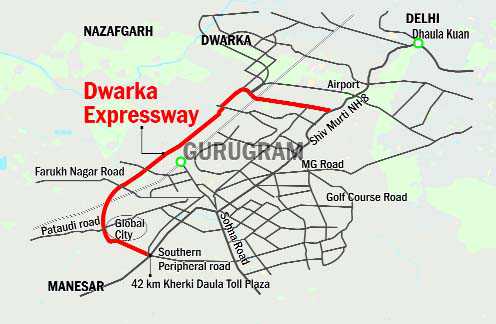 This area too has options both in the primary and secondary market. However, the lack of social infrastructure and basic connectivity is an inhibitor to the buyer's interest. The average price in the region is Rs. 5381 per sqft.
Major projects/ developers active in Dwarka Expressway are:
Vedaanta, Raheja Developers
Hero Homes
Adani Affordable
Vatika
Ramprastha
CHD Developers
Sobha City
New Gurgaon:
This area has gained prominence very lately after the delivery of the residential projects that started around 2014-15. At present, this is the region that presents an excellent opportunity to own a Gurgaon address at affordable prices.
Sectors that fall in this area are 76-83, 85-87, 90-98. The average price in the region is 5117 (Rs. /sqft).
The key driver for the rise of this location is its proximity to Manesar, seamless connectivity with key employment hubs of Sohna Road, Cyber City, Sector 30, and Udyog Vihar.
Major projects in New Gurgaon:
Supertech The Ville
Emaar Palm Premier
DLF New Town Heights
Godrej Air
Bestech Park View Grand Spa
DLF The Primus
Vatika India Next
Southern Peripheral Road (SPR):
As per Gurgaon Manesar Urban Complex 2031 Masterplan, the present Golf Course Extension Road, Badshahpur Chowk to NH8 are together called Southern Peripheral Road. It is planned to be 90-meter wide with 30-meter green belt on either side.
After the seamless integration of SPR with the Sohna Road and Golf Course Extension Road in 2016, the micro market has started witnessing a surge in the activity. Sectors 68-75 fall in this region and price ranges from Rs. 5,500-8,000 per sq ft.
Major housing projects of SPR are:
Tata Housing Piramanti
M3M Sierra
Mahira Homes
Supertech Azalia
Hues
Pareena MI Casa
Paras Irene
BPTP Astaire Gardens
DLF Alameda
Signature Global Andour Heights