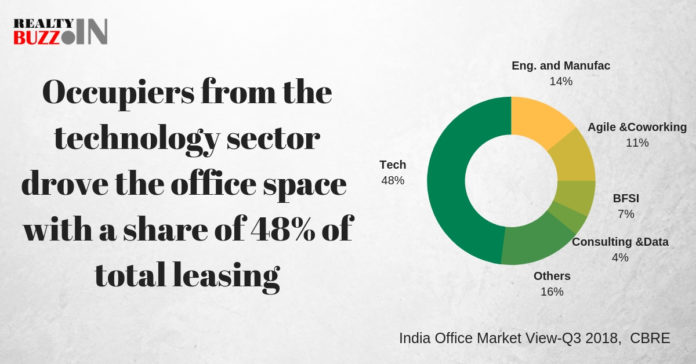 India's commercial real estate market continues to perform well. As per a CBRE report, office leasing has risen by 7 percent during January-September 2018 to touch 32.2 million sq ft in nine major cities.
The report, titled "India Office Market View-Q3 2018," by CBRE also mentioned that in Q3 2018 alone, the leasing activity has improved by 12 percent on a quarterly basis and touched 10.9 million sq.ft. The report covers nine major cities – Delhi-NCR, Mumbai, Chennai, Kolkata, Bengaluru, Pune, Hyderabad, Ahmedabad, and Kochi.
A year ago, office space leasing stood at 30.1 million sq ft. The CBRE report also states that NCR, Bengaluru, Mumbai and Hyderabad, contributed to 80 percent of the leasing activity in Q3 2018.
The rise in the leasing activity can be attributed to higher demand of spaces from corporate and co-working operators' major expansion mode.
Occupiers from the technology sector drove the office space take-up in the country during the third quarter with a share of 48% of total leasing. Tech segment is followed by occupiers from the engineering and manufacturing sector with 14% share and co-working and business center operators that absorbed 11% of the total leased space.
"India's economic growth continued on its upward trajectory and real estate services (along with financial and professional services) sector contributed to this economic surge as it grew from 5 percent in the previous quarter to 6.5 percent during the review period," Hindu Business Line quoted Anshuman Magazine, Chairman, India and South East Asia, CBRE, as saying.
The Chairman also declared that going forward, sectors such as engineering and manufacturing, and co-working are likely to account for a larger share in leasing activity. He also said that special economic zones (SEZs) are expected to account for a larger share of the upcoming supply over the next few quarters.
Click here for the complete report.