To revive the Indian real estate sector, Finance Minister Nirmala Sitharaman announced a bailout package worth Rs. 25, 000 crore to complete the construction of stalled housing projects on Nov.6, Wednesday. The announcement of AIF was welcomed by developers and other experts but there is a section of stakeholders who are still hot happy about the decision.
The Alternative Investment Fund (AIF) appeared to be panacea of the ailing realty sector on the first look. However, it comes with its own set of clauses and restrictions which questions the effectiveness of the fund.
The fact that the project that the unfinished project has to be RERA-registered to get the assistance from AIF seems to be a bone of contention. A leading real estate consumer body has lodged a written appeal to Prime Minister Narendra Modi saying that unfinished projects in West Beng as well as Telangana, Haryana, Andhra Pradesh, Tamil Nadu, Madhya Pradesh and Chhattisgarh had been kept outside the purview of RERA which in turn make them ineligible to seek funding from AIF.
Noteworthy here is that West Bengal has not enacted RERA yet. The state has its own West Bengal Housing Industry Regulation Act, 2017 (WBHIRA) and that makes it impossible for the affected homebuyers of stalled projects in the state to get any relief anytime sooner.
About 13, 000 units worth Rs. 7300 crore are delayed only in the city of Kolkata.
Forum For People's Collective Efforts (FPCE) president Abhay Upadhyay further pointed out that even in states of Telangana, Haryana, Karnataka and even Uttar Pradesh, the ongoing projects are kept outside the purview of RERA.
Abundant caution needs to be exercised as #builders can't be trusted with funds. RERA has no legal/practical role, hence all projects launched prior to RERA be eligible 4 funding. @narendramodi @nsitharaman @HardeepSPuri @moneycontrolcom @vandanaramnani1 https://t.co/FRp8dSilCv

— Forum For People's Collective Efforts (FPCE) (@FightForRERAInd) November 9, 2019
FPCE has appealed that modification in AIF clause so as to include all the delayed projects including those from pre-RERA days.
Real estate data analytic firm Liases Foras MD Pankaj Kapoor believes that only around 30-40percent of the stalled projects may actually be able to see resolution. He also claimed that completion of the all the stalled projects across the country will actually need Rs. 70, 000 crore, more than twice allocated by the government.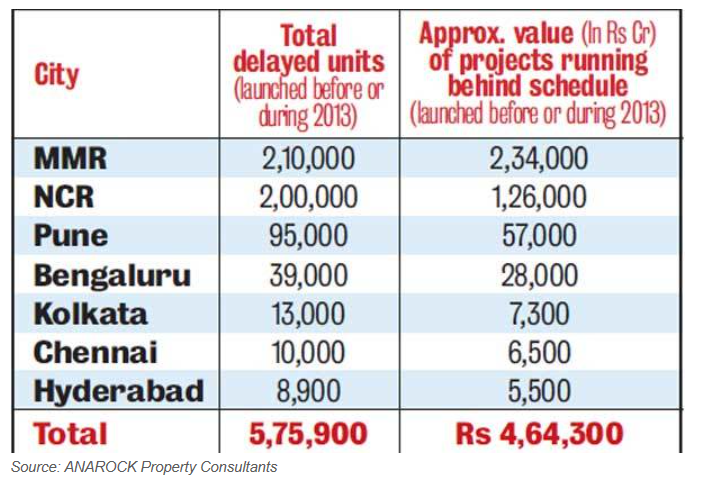 Meanwhile, Mumbai Metropolitan Region MMR is supposed to get the lion's share in the AIF. The experts believe that higher demand for housing and better realization when stalled projects are finished will push maximum funds in MMR. Mumbai alone has close to some 92, 000 unfinished housing units stuck in various stages of construction.
Know here how the sector is reacting over AIF.